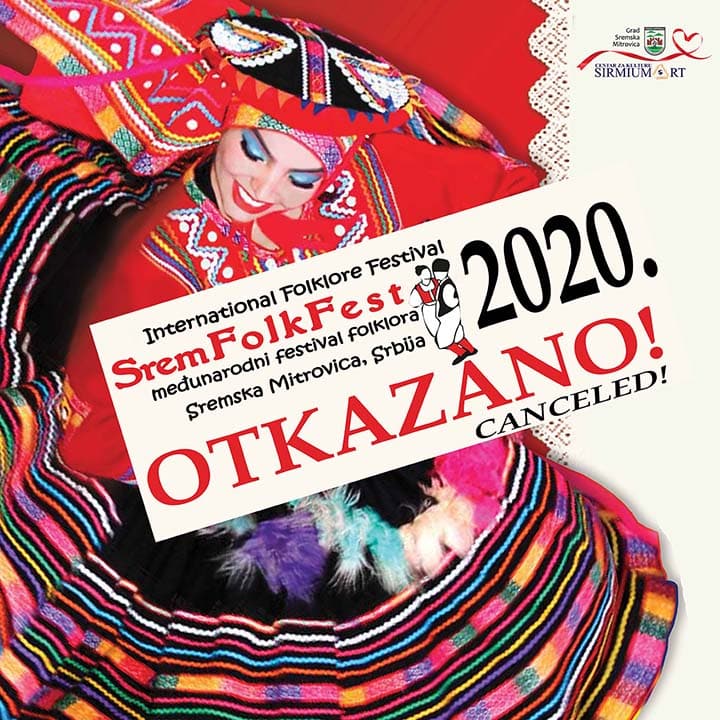 "SREM FOLK FEST" WON'T BE HELD THIS YEAR
Due to the new situation caused by the Covid-19 virus, we are respecting the measures of the Government of the Republic of Serbia and the Emergency Situations Headquarters of the City of Sremska Mitrovica, so therefore the organizing committee of the International Folklore Festival "Srem Folk Fest" composed of Petar Samardzic – Festival Director, Dragan Djordjevic – Artistic Director, and Zoltan Hegediš – director of the Sirmiumart Cultural Center, made the decision for "Srem Folk Fest" not be held in 2020.
The Mitrovica Folklore Festival traditionally gathers a large number of participants from all over the world and an even larger number of visitors. However the health and safety of fellow citizens as well as domestic and foreign guests comes first, therefore the organizer has decided to cancel this year's event in order to prevent spreading of Covid-19 pandemic.
The cancellation of the "Srem Folk Fest" was also recommended by the International Federation of Folklore Festivals CIOFF, under whose auspices the "Srem Folk Fest" has been operating since 2015.
16 countries participating in 16th Srem Folk Fest!
11th – 14th of August 2019. in Sremska Mitrovica, Serbia!
Find out more!