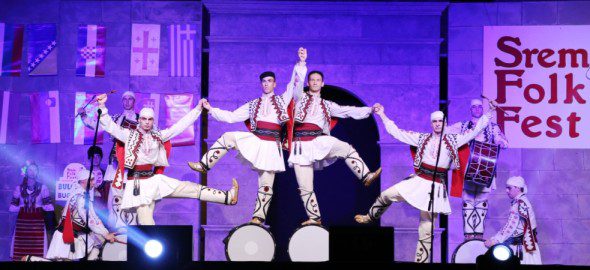 "Srem Folk Fest" is an international folk dancing festival held every year between 11th and 14th of August, in Sremska Mitrovica (Serbia) under the patronage of the City of Sremska Mitrovica. The founder and the organizer of the festival is the Centre for Culture "SirmiumArt".
The aim of the festival is nurturing and promoting folk songs, dance, music and costumes of all the nations of the world. The festival enables the visiting folk ensembles to meet with the local culture and tradition of the host city and its surroundings, and the Serbian tradition in general. "Srem Folk Fest" makes it possible for different cultures and civilizations to come together, thus creating opportunities to cooperate and develop friendly relationships among the ensembles at the international level.
Since 2015 Mitrovica's folk festival is a part of the International Council of Organizations of Folklore Festivals and Folk Arts "CIOFF" – world's international institution which stands for top standards when it comes to organizing folk festivals. Starting from 2019 "Srem Folk Fest" operates under the patronage of the National Commission for UNESCO as one of the festivals aimed at preserving the intangible cultural heritage of the world.
There are usually about twenty ensembles from different countries taking part in the Festival and representing folk tradition from their area. The performances take place at an open stage surrounded by the remains of the ancient Roman city and are viewed by over 4,000 people. Before the performance on the stage there is a procession of the participants through the central city streets, which the audience follows eagerly. On the stage the ensembles perform their dances for ten to thirty minutes according to the schedule.
In their free time the participants have a chance to get to know the city and the surrounding area, to learn something about its history and enjoy the tourist attractions.